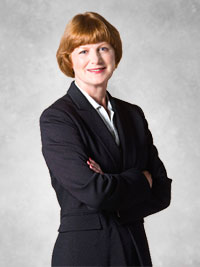 A sterling reputation. A 30-year track record. A passion for helping women in law enforcement. Chief Karin Montejo has all that and more.
Chief Montejo served as a Division Chief at the Miami-Dade Police Department before retiring with the respect of her peers in 2008. Of course, she didn't start her career in a leadership role. Chief Montejo steadily worked her way up the police department ranks one rung at a time through loyal duty, strong management skills, and a heart to pave the way for other women in law enforcement.
Climbing the law enforcement ranks
Chief Montejo began her career as a uniformed police officer in 1978 and quickly gained experience investigating narcotics and homicide cases in the heart of a growing, urban city. After 10 years on the streets of Miami, she was appointed sergeant of the Professional Compliance Bureau, where she investigated complaints of police misconduct and allegations of sexual harassment with the Miami-Dade Police Department. During that time, she also co-authored the departmental policy on Sexual Harassment.

After just three years as a sergeant, Chief Montejo was promoted to Lieutenant in 1992. She worked on an intensive community program designed to help prevent and investigate crimes against tourists. During that period of her career, Chief Montejo gained valuable training experience, supervising basic training, firearms and defensive tactic units. In her last assignment as Lieutenant, she supervised homicide sergeants and detectives.
By 1997, Chief Montejo earned her position as Captain of the Economic Crimes Bureau, where she supervised crime investigations including arson, fraud, auto theft, and organized crime and vice investigations. Just a year later, Chief Montejo was promoted yet again to Major in the Sexual Crimes Bureau before moving on to serve as a District Commander where she would hone her administrative skills.
In 2003, Chief Montejo was transferred to the Domestic Crimes Bureau. She was responsible for the overall operation of the bureau, which investigated crimes against children and the elderly, as well as missing persons and domestic violence cases throughout Miami-Dade County. Chief Montejo ended her career as Chief of the Administration and Technology Division. Click here to read more about Montejo's career achievements.
Educating herself, educating others
Chief Montejo believes in lifelong education. She holds a Bachelor of Arts in Criminal Justice from the University of Florida, a Master of Science in Public Administration from St. Thomas University, and a Ph.D. in Global Leadership with specialization in Corporate and Organizational Management from Lynn University. She graduated from the Southern Police Institute for Police Executives.
Chief Montejo is also committed to educating others. She served as an instructor for the Miami-Dade Police Department, the Florida Department of Law Enforcement, as well as the International Association of Chiefs of Police (IACP). She presented the first Assessment Center Overview for the ranks of sergeant, lieutenant, and captain for the Miami-Dade Police Department in 2005. And she developed and produced a course for women in policing called "Meeting the Challenges of Leadership." That course was showcased at the first FBI Conference for Women in Law Enforcement in Miami.
Under the flag of Montejo Consulting, Chief Montejo continues to develop new educational seminars, including Females in Leadership, Views of Women in Law Enforcement and Sex Crimes Investigations.
Recognized for serving the community
Chief Montejo remains active in her service to the law enforcement community. She has served on the Board of Directors for End Violence Against Women International (EVAW). She is also a member of the Advisory Planning Committee for the Sexual Assault Research Service, and she was appointed to the Research Advisory Committee for the International Association of Chiefs of Police (IACP). Chief Montejo is also a member of the following Associations:
Chief Montejo has received industry accolades for her service and achievements. The National Center for Women in Policing honored her with its "Breaking the Glass Ceiling" Award in April 2002. Miami-Dade County honored her for her accomplishments with the "In Celebration of Women" Award in 2004. In March 2004, she was honored by Miami-Dade County for her accomplishments receiving the "In Celebration of Women" Award. She was also nominated for the 2007 NAWLEE/Motorola Woman Law Enforcement Executive of the Year Award.
Click here to discover how Montejo Consulting can help you improve your law enforcement career.